As ugly results add up, Riley and players say the care is there
"I want everybody to know that we care."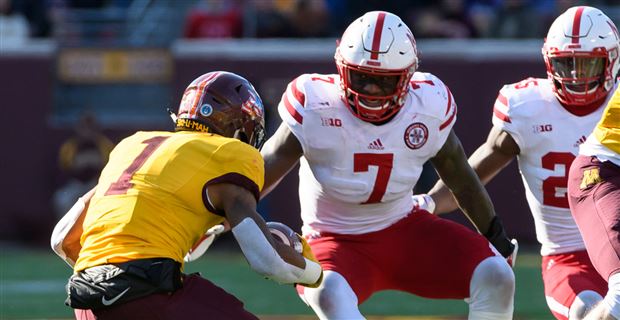 MINNEAPOLIS-- You can't say the effort wasn't there. The two young women tried. Boy, did they try. They stood in the first row, their hands hanging over the railing, repeating their message over and over again. Occasionally an arm from below would extend to meet their reach.
Most Huskers kept their gaze to the ground.
"Keep your chin up! Keep your chin up!" the women shouted. "Keep your chin up! You play for Nebraska!"
Except everyone knew: This is not what Nebraska football is supposed to look like. A Husker cheerleader with a tear streaking down her cheek knew it.
So do players on a Husker team now trending toward the program's worst record since 1961.
"It's still a Nebraska team and we hold that strong," junior left guard Jerald Foster tried to assure after the game. "I want everybody to know that we care. We know our fans care. We know our coaches care. As players, we all care."
It's also understood that, at some point, Nebraska fans have become numb to such postgame quotes and the embarrassing losses. Just throw Saturday's in the pile and burn them all sometime this winter to try to keep warm, right?
Still ... this 54-21 loss to a mediocre Minnesota team in which 409 yards were surrendered to the 119th-ranked offense was right there among the lowest of all the low points.
The Gophers possessed the football 10 times and scored touchdowns seven times, and field goals on two of the other three. "We never got our feet on the ground at any time that I can remember defensively," said Husker head coach Mike Riley.
It would lead to questions, of course, about effort and if Riley and players felt this team has already cashed in now with the record at 4-6, and bowl hopes fading, and the speculation of this being Riley's last season as head coach burning white hot.
Riley didn't want to say it was lack of intensity.
"Right now, I think you have to inherently rely on the character of the people around you -- the players and the coaches," Riley said. "It sounds like a broken record, but the coaches will get together a plan and prepare. And I think the coaches will just have to call on their own personal pride to do the right thing.
"And you know what? Whether or not their lights have been on all the way, whatever the opinion of what it looked like today, these are good kids. They have worked hard. They did prepare. We had a plan. We did not obviously prepare for this. Surprised by it. But I'll continue to say they had great intentions and tried in every way to get ready to play."
Riley also said he believes players still are buying into what Diaco is telling them, even amid all the defensive struggles. He believes that due to the interactions he sees between them.
Third-year sophomore linebacker Mohamed Barry, as passionate as they come talking about football, was stunned by Saturday's result. He felt the team was prepared to play a good game.
"Our Thursday practice, our Friday practice was great. I don't know how this happened," Barry said. "It's on us. At the end of the day, they can't play for us. We wear the cleats and the pads and make the plays.
"We're not losers. I'm not going to think like a loser. I'm not going to put my head down and think like a loser. I play for Nebraska. I'm a Blackshirt. You can't think like a loser. So, we've got two more games. We can beat these two and go to bowl game, and that's what matters. Our coaches are competitors and I have faith in them, they did our part to get us ready and we have to execute. We can't think like losers, and I'm not going to think like a loser."
But the likelihood of a losing season, the second in three years under Riley, is now strong. The team is 1-3 in games since new athletic director Bill Moos began evaluating it. In that time it has lost a game by 42 points in which the opponent never punted, and now by 33 to a team with a losing record. Minnesota's punter did come on the field. Once.
Riley was quiet and professional as he spoke with media after this debacle, but there was no question a feeling of inevitability that hung in the air for all involved.
There are two weeks left, and then, many now assume, change. But first comes games against Penn State and Iowa, and the veteran coach who is 19-17 at Nebraska is going to keep working until he's told not to work.
"Sometimes, right now, it's personal pride," Riley said. "It's just the idea of, 'You like football. We like to coach football. Let's help you get better. Let's put a game plan together. Let's go play another game.' From where we sit right now, that's going to be I think a big part of it."
Riley said something else early in this season that stands out now: Football, at least at this level, isn't fun when you're not winning. That should be confirmed as true at this point.
Nebraska football in 2017 has been anything but fun. It has been slow walks off football fields, tears on cheeks, with that occasional voice of hope reminding, "You play for Nebraska!" and hoping that one day soon it means the same thing it used to mean.